Organic systems of animal breeding - genetic resources
PIGS
Prestice Black Pied Pig
| | |
| --- | --- |
| | |

Prestice Black Pied Pig was included in genetic resources in 1992. The reason for this step was not only low number of the population, but also some characteristics of this breed. Prestice Black Pied Pig is specific for its excellent reproductive performance, unpretentiousness and high degree of adaptability and resistance to external environmental conditions. It has medium body frame, very firm (hard) constitution and excellent stress resistance. The color is black and white without definition of body parts for black and white color. Besides color, also tipped ears are typical for the breed. Original breeds have many "primitive" characteristics – adaptability to environment, resistance to climatic stress, local parasites and pathogens, better utility of local feed sources. Modern breeds, selected for intensive animal production, reach high utility at the price of these primitive qualities. Original breeds are therefore source of genes usable fot improving health and other parameters of modern breeds and represent valuable and strategically important property of each country.
Thanks to the National program on Protection of livestock genetic resources there are activities ongoing on maintaining population of Prestice Black Pied pig and collecting and conservation of genetic material.
Before 1850 Old Bohemian Bristleback igp (Czech Ridge pig) was bred in Pilsen region. This undemanding and fertile breed did not meet the increasing requirements for meat production, therefore, after 1850 new breeds from England were imported (Yorkshire, Suffolk, Cornwall, Sussex) as same as from Germany. Crossing of original and imported breeds created two groups of pigs – Prestice and Kralovice. After the World War I, in 1924 new Breeding Act was passed and in 1926 implementing regualtions to this Act. According to them, since 1928 only white thoroughbred pigs were applied in farms and breeding of Prestice and Kralovice pig was suppressed. Black pied boars were allowed to be used till 1936. During World War II sharpen prohibition was applied on breeding of black pied pigs, their breeding was maintained secretly, which led to uncontrolled imbreeding manifested by some exterior deffects. Since 1952, recovery of Prestice pig was conducted with 200 selected sows and 6 boars and imported breeds (e.g. Cornwall, Berkshire, Essex, Saddleback), the regeneration was finnished in 1964 and Prestice pig was acknowledged as a separate breed. After 1964 the breed was improved with Pietrain and German Saddle pig. In 1992 the breed was included among genetic resources. Since 1996 the breed is kept "in situ" as a closed population. Highly valuable characteristics of the breed are undemandness, stress resistance, adaptability to conditions of external environment and good maternal qualities, thanks to which the Prestice pig is suitable also for organic farming. Disadvantage of the breed are less favorable parameters of carcass value.
In 2011 the herds included into the National Program reached following results in performance tests: in gilts – daily gain 542 g, 61 % of lean meat and 0.83 cm of back fat, in boars – daily gain 559 g, 60.3 % of lean meat and 1.0 cm of back fat. 134 gilts and 25 boars were reared in total.
In 2011 there were 38 boars of ten lines. The rate of insemination in 2011 was 37.5 % and rate of sows in natural reproduction was 62.5 %. In latest years, the population of Prestice pig recorded decreasing trend in the proportion of purebred litters, during last year the proportion increased to 59 %. The conception of sows was on the level of 87.1 % in natural reproduction and 72.7 % in insemination. Parameters of reproduction reached following values: 11.3 born piglets (/sow/litter); 10.5 live-born piglets (/sow/litter); 9.5 reared piglets (/sow/litter); interval lenght 165 days; 2.1 litters (/sow/year); 21 live-born piglets (/sow/year).
| | |
| --- | --- |
| | |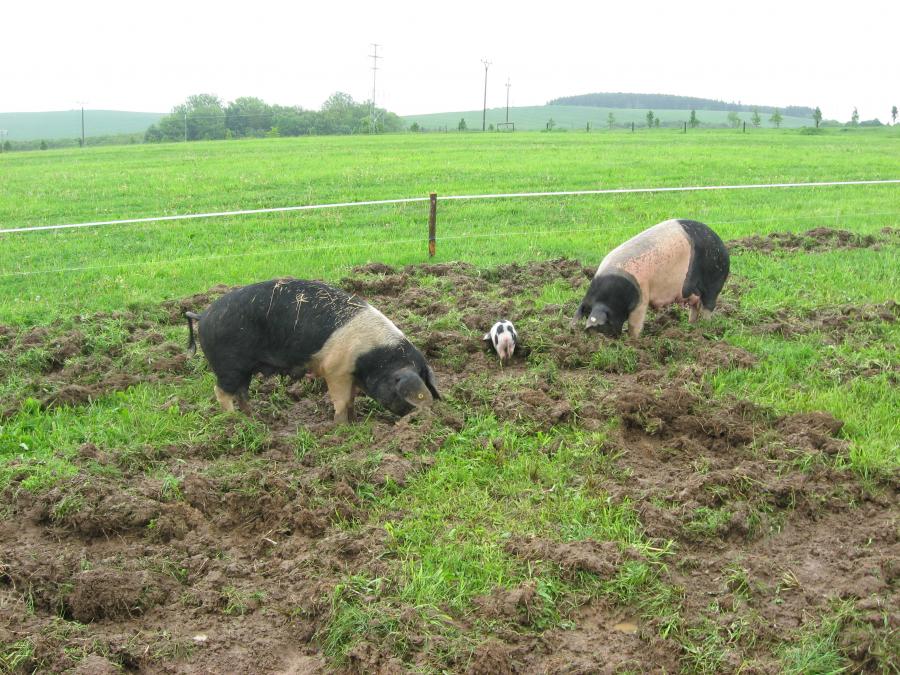 At the present time, the Prestice breed of pigs cannot compete with modern breeds and their hybrids used in factory farms. It is necessary to find an appropriate use for Prestice pig, mainly in backyard and organic farms. Quality meat of Prestice pigs can be used for special meat products. Historical sources say that meat of Prestice pig was used for production of hams and for cutting meat. With the weight of 60 – 70 kg the meat was tender, juicy and slightly marbled with fat. In longer fattening the pigs rapidly deposited fat, therefore in higher weights they became typically lardy pigs. Before the World War II the Prestice pig was used for production of "Prague Ham", which was exported to many European and oversees countries. Currently there are producers who focus on production of quality meat products from the meat of Prestice pig again.
Population structure in 2002 - 2013
| | | | |
| --- | --- | --- | --- |
| Year | Total number of sows | Total number of boars | Numbers of herds |
| 2002 | 340 | 37 | 9 |
| 2003 | 332 | 39 | 9 |
| 2004 | 348 | 35 | 7 |
| 2005 | 332 | 33 | 7 |
| 2006 | 331 | 30 | 7 |
| 2007 | 311 | 23 | 5 |
| 2008 | 189 | 23 | 4 |
| 2009 | 245 | 36 | 6 |
| 2010 | 192 | 28 | 6 |
| 2011 | 196 | 32 | 10 |
| 2012 | 206 | 42 | 12 |
| 2013 | 302 | 56 | 15 |
The document was created: 05. 07. 2020 03:03:59
Source: http://web2.mendelu.cz/af_291_projekty2/vseo/

Prepared under project CZ.1.07/2.2.00/28.0020
Innovation of study programs FA MENDELU towards internationalization of study