2014
Zprávy z laboratoře / Laboratory information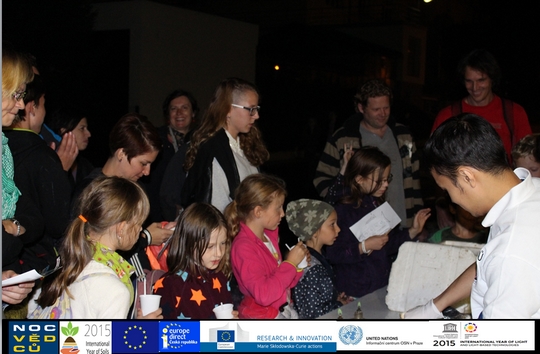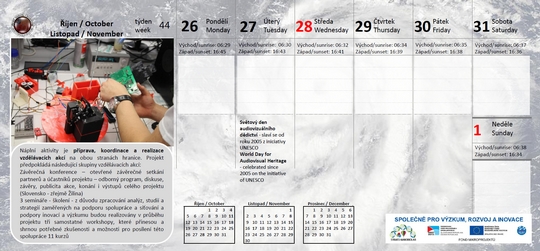 Picture of the week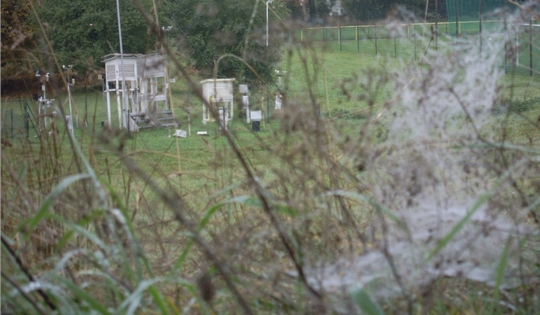 Tatry mountains , high resolution camera form balloon gondola in 35 km. QDDNA-STRATO experiment (12. 10. 2014, 7 UTC).
SEMINAR
Slavnostní oteření místnosti NanoBioMetalNet, středa 22. 10. 2014.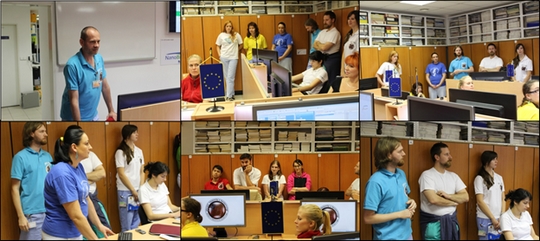 Brněnští a slovenští vědci dnes vypustili sondu do stratosféry
12. 10. 2014: Dnes v 7.30 hodin středoevropského letního času byla vypuštěna z letiště ze Spišské Nové Vsi stratosférická sonda, která měla za cíl otestovat účinnost unikátních biosenzorů vyvinutými vědci z Mendelovy univerzity v Brně. Téměř 40 km nad zemí, v podmínkách blízkých kosmu, biosenzory v osmi minutových intervalech snímaly vliv kosmického záření na DNA.

Sonda vyvinutá vědci z brněnské univerzity nesla na svém obalu do stratosféry také kyvety obsahující živé kultury bakterií. "Bakterie jsou schopny přežít i ve velmi extrémních podmínkách. Do experimentu jsme vybrali kolonie bakterií, které se vyskytují na lidském těle nebo se kterými se běžně setkáváme. Při dnešním letu do stratosféry dosahovala teplota mínus 63 stupňů Celsia a tlaku 14 hPa blížícímu se vakuu. V příštích týdnech budeme zkoumat, do jaké míry přežily nebo jak byly poškozeny," říká profesor René Kizek, vedoucí vědeckého týmu z Mendelovy univerzity v Brně, který experiment realizoval.


http://spisska.dnes24.sk/na-nasom-letisku-sa-uskutocni-unikatny-let-zo-spisskej-vypustia-sondu-az-do-stratosfery-186922
Odkaz je tu:
http://www.novinky.cz/veda-skoly/350065-brnensti-vedci-chteji-chranit-posadky-letadel-a-kosmonauty-pred-rakovinou.html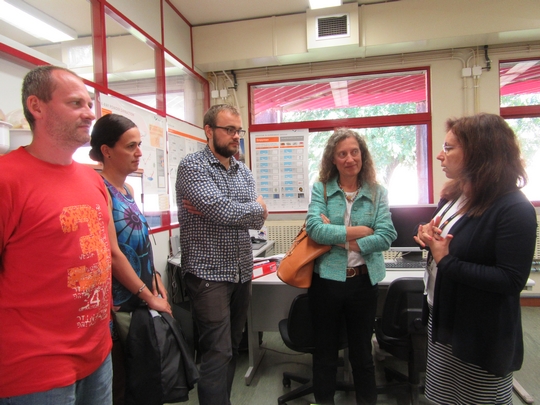 RESEARCH IN LAB
Nanotechnologies in Protein Nano- and Microarrays



Protein array is typically carried out by immobilizing proteins onto a microscope slide using a standard contact [1, 2] or a noncontact microarrayer [3] and then used for protein profiling. Common types of immobilizing materials consist of aldehyde- and epoxy-derivatized glass surfaces, and Schott NHS-derivatized slides for random attachment through nitrocellulose [4, 5], amines [6, 7] or gel-coated slides [8, 9] for attachment through diffusion and adsorption/absorption, and nickel-coated slides for the process of affinity attachment of HisX6-tagged proteins. From the point of view of the types, protein microarray can be classified as reverse phase protein arrays (RPPA), target microarrays and in situ expressed arrays [10-12]. In case of target protein microarrays, a planar-solid surface is employed to immobilize the capture agents of different nature and affinity properties, which are incubated with target sample. This approach is generally used for studying of protein expression levels

Již před 10 lety se Česká republika spolu s dalšími devíti evropskými zeměmi staly členy Evropské unie. Ačkoliv si Česká republika oficiálně připomene svůj vstup do Evropské unie 1. května, Úřad vlády ČR ve spolupráci se Zastoupením Evropské komise v ČR a dalšími partnery přichystaly řadu akcí, které budou probíhat po celé jaro. Europe Day is observed annually on May 05, 2014. There are two separate designations of Europe Day: The Council of Europe's day was established in 1949, while the European Union's (EU) day celebrates the day the EU's predecessor was proposed in 1950. For the EU, the day is also known as Schuman Day, comme morating the historical declaration by French foreign minister Robert Schuman.
Journal of Metallomics and Nanotechnologies
Druhé číslo právě vyšlo
Časopis Journal of Metallomics and Nanotechnologies vychází pouze elektronicky, čtvrtletně. Jeho obsahové zaměření je v oblastí nano-biochemie, nanotechonologie, biomedicína a nanomedicína. Časopis vychází bez regionálních mutací v českém, slovenském a anglickém jazyce. Vydavatel: Laboratoř metalomiky a nanotechnologií Mendelova univerzita v Brně, Zemědělská 1, 613 00, Brno, Česká republika http://web2.mendelu.cz/af_239_nanotech/J_Met_Nano/index.html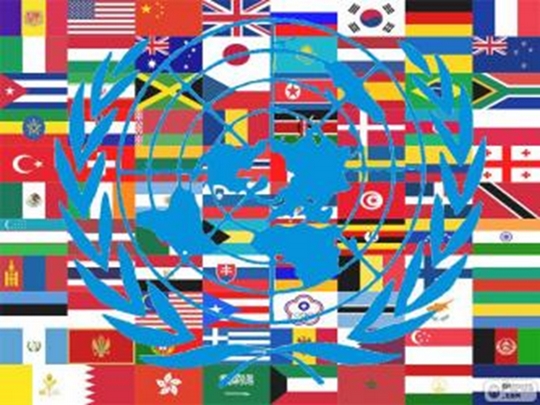 Zprávy z výzkumu/ Scientific Reports
Hubble Sees Turquoise-Tinted Plumes in Large Magellanic Cloud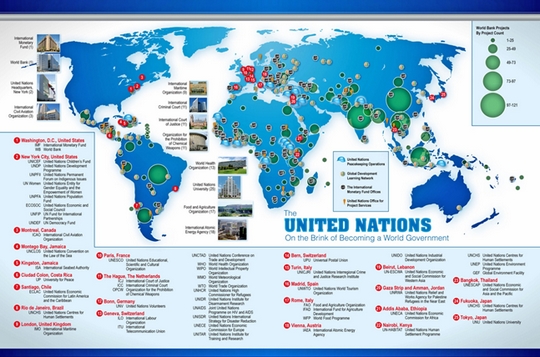 The brightly glowing plumes seen in this image are reminiscent of an underwater scene, with turquoise-tinted currents and nebulous strands reaching out into the surroundings. However, this is no ocean. This image actually shows part of the Large Magellanic Cloud (LMC), a small nearby galaxy that orbits our galaxy, the Milky Way, and appears as a blurred blob in our skies. The NASA/European Space Agency (ESA) Hubble Space Telescope has peeked many times into this galaxy, releasing stunning images of the whirling clouds of gas and sparkling stars (opo9944a, heic1301, potw1408a).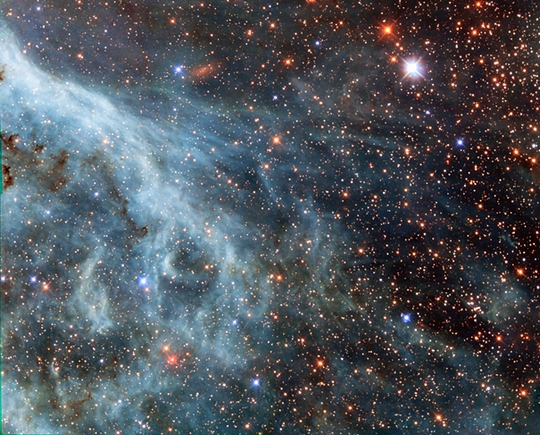 This image shows part of the Tarantula Nebula's outskirts. This famously beautiful nebula, located within the LMC, is a frequent target for Hubble (heic1206, heic1402). In most images of the LMC the color is completely different to that seen here. This is because, in this new image, a different set of filters was used. The customary R filter, which selects the red light, was replaced by a filter letting through the near-infrared light. In traditional images, the hydrogen gas appears pink because it shines most brightly in the red. Here however, other less prominent emission lines dominate in the blue and green filters. This data is part of the Archival Pure Parallel Project (APPP), a project that gathered together and processed over 1,000 images taken using Hubble's Wide Field Planetary Camera 2, obtained in parallel with other Hubble instruments. Much of the data in the project could be used to study a wide range of astronomical topics, including gravitational lensing and cosmic shear, exploring distant star-forming galaxies, supplementing observations in other wavelength ranges with optical data, and examining star populations from stellar heavyweights all the way down to solar-mass stars.
James Webb Space Telescope's Heart Survives Deep Freeze Test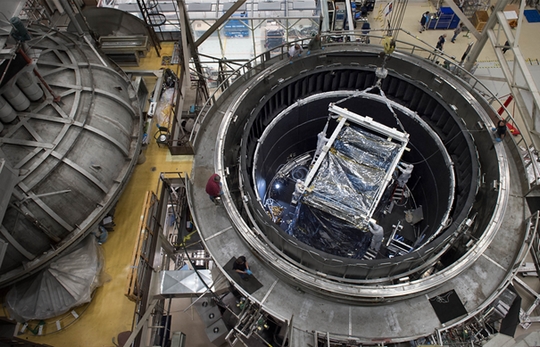 After 116 days of being subjected to extremely frigid temperatures like that in space, the heart of the James Webb Space Telescope, the Integrated Science Instrument Module (ISIM) and its sensitive instruments, emerged unscathed from the thermal vacuum chamber at NASA's Goddard Space Flight Center in Greenbelt, Maryland. The Webb telescope's images will reveal the first galaxies forming 13.5 billion years ago. The telescope will also pierce through interstellar dust clouds to capture stars and planets forming in our own galaxy. At the telescope's final destination in space, one million miles away from Earth, it will operate at incredibly cold temperatures of -387 degrees Fahrenheit, or 40 degrees Kelvin. This is 260 degrees Fahrenheit colder than any place on the Earth's surface has ever been. To create temperatures that cold on Earth, the team uses the massive thermal vacuum chamber at Goddard called the Space Environment Simulator, or SES, that duplicates the vacuum and extreme temperatures of space. This 40-foot-tall, 27-foot-diameter cylindrical chamber eliminates the tiniest trace of air with vacuum pumps and uses liquid nitrogen and even colder liquid helium to drop the temperature simulating the space environment. The James Webb Space Telescope is the scientific successor to NASA's Hubble Space Telescope. It will be the most powerful space telescope ever built. Webb is an international project led by NASA with its partners, the European Space Agency and the Canadian Space Agency.
NASA Sees Himalayan Snow from Cyclone Hudhud's Remnants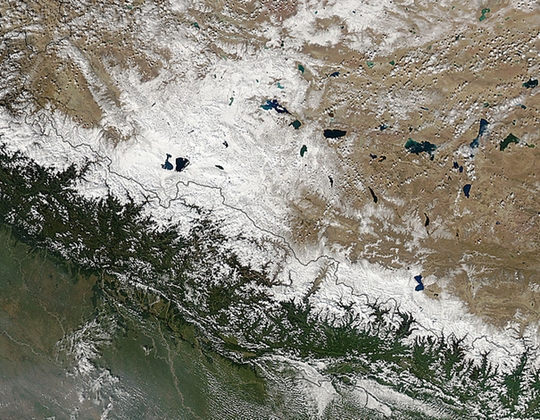 Question: When does a Tropical Cyclone drop snowfall? Answer: When it makes landfall in India and the moisture moves over the Himalayas as Cyclone Hudhud has done. When NASA's Aqua satellite passed over the Himalayan Mountains, the MODIS instrument captured this image of snow on the ground on Oct. 16 at 0705 UTC (3:50 a.m. EDT). Cyclone Hudhud made landfall in eastern India and moved over the Himalayas dropping snowfall in Nepal and southwestern China.
Illusions in the Cosmic Clouds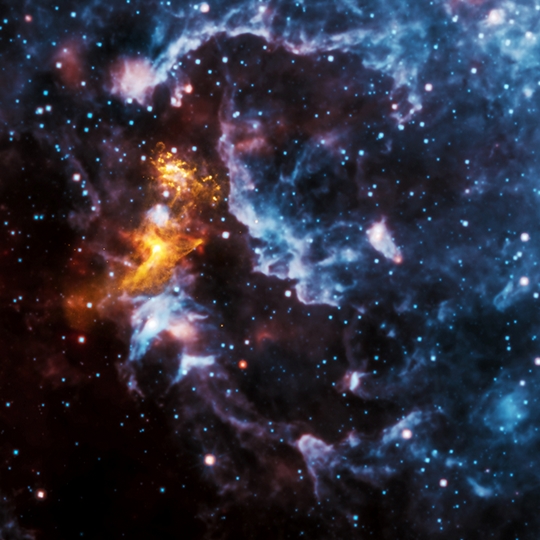 Pareidolia is the psychological phenomenon where people see recognizable shapes in clouds, rock formations, or otherwise unrelated objects or data. There are many examples of this phenomenon on Earth and in space. When an image from NASA's Chandra X-ray Observatory of PSR B1509-58 -- a spinning neutron star surrounded by a cloud of energetic particles --was released in 2009, it quickly gained attention because many saw a hand-like structure in the X-ray emission. In a new image of the system, X-rays from Chandra in gold are seen along with infrared data from NASA's Wide-field Infrared Survey Explorer (WISE) telescope in red, green and blue. Pareidolia may strike again as some people report seeing a shape of a face in WISE's infrared data. What do you see? NASA's Nuclear Spectroscopic Telescope Array, or NuSTAR, also took a picture of the neutron star nebula in 2014, using higher-energy X-rays than Chandra. PSR B1509-58 is about 17,000 light-years from Earth. JPL, a division of the California Institute of Technology in Pasadena, manages the WISE mission for NASA. NASA's Marshall Space Flight Center in Huntsville, Alabama, manages the Chandra program for. The Smithsonian Astrophysical Observatory in Cambridge, Massachusetts, controls Chandra's science and flight operations.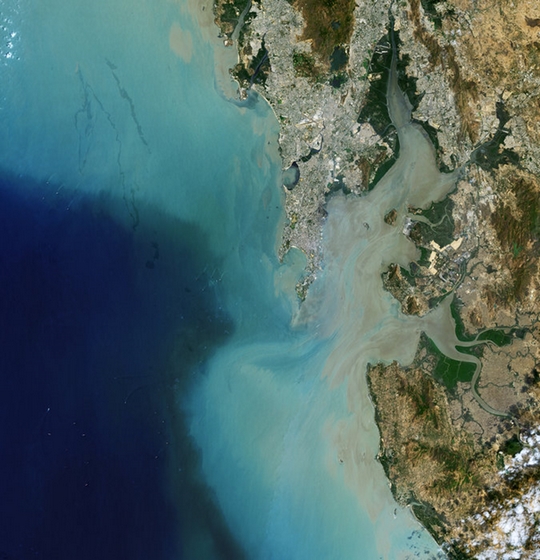 The western Indian city of Mumbai is pictured in this image from Japan's ALOS satellite. Mumbai sits at the mouth of the Ulhas River – seen in the upper right – which carries sediments into the harbour and out to the Arabian Sea. Numerous vessels are visible in the waters, some of them approaching the city's naturally deepwater harbour. To the west of Mumbai and across the water is Navi Mumbai, one of the world's largest planned townships, developed to decongest Mumbai. Mumbai is the fifth largest metropolitan area in the world, with a population of over 20 million. It is located on a claw-like peninsula of Salcette Island (centre), which was originally seven separate islands until 19th century land reclamation projects joined them together. The docks of Mumbai harbour are located on the east side of the peninsula. The curve at the bottom of the peninsula is Back Bay, and we can see the sands of the Chowpatty Beach within the curve. The oval green space on the west side of the city is the Mahalaxmi hourseracing track. Near the top of the image we can see the Sanjay Gandhi National Park, with lakes and vast green areas. Joggers, nature lovers and devotees who worship deities are common in the park – as are leopards. Leopard sightings often occur on the periphery of park, mainly due to abundant food resources such as stray dogs, which live off refuse. One study found that dogs form well over half of the leopards' diet. This image, acquired by ALOS on 23 March 2011, is featured on the Earth from Space video programme.
Hinode Captures Images of Partial Solar Eclipse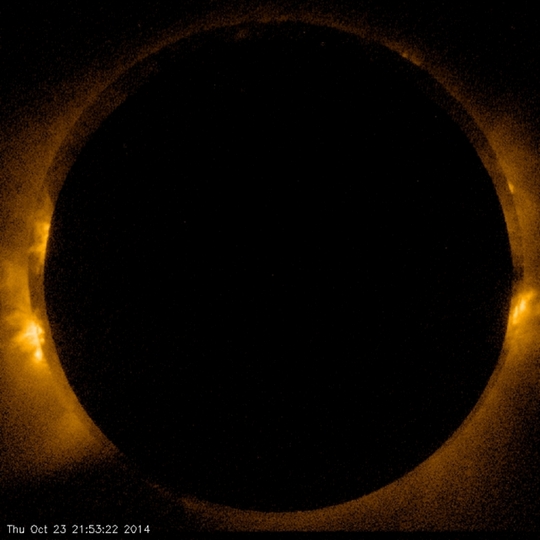 A partial solar eclipse was visible from much of North America before sundown on Thursday, Oct.23. A partial eclipse occurs when the moon blocks a portion of the Sun from view. The Hinode spacecraft captured images of yesterday's eclipse as it passed over North America using its X-ray Telescope. During the eclipse, the new moon eased across the Sun from right to left with the Sun shining brilliantly in the background. And as a stroke of good luck, this solar cycle's largest active region, which has been the source of several large flares over the past week, was centered on the Sun's disk as the moon transitted! Hinode is in the eighth year of its mission to observe the Sun. Previously, Hinode has observed numerous eclipses due to its high-altitude, sun-synchronous orbit. As viewed from Hinode's vantage point in space, this eclipse was annular instead of partial, which means that the entire moon moved in front of the Sun but did not cover it completely. In this situation, a ring of the Sun encircles the dark disk of the moon. Led by the Japan Aerospace Exploration Agency (JAXA), the Hinode mission is a collaboration between the space agencies of Japan, the United States, the United Kingdom and Europe. NASA helped in the development, funding and assembly of the spacecraft's three science instruments. Hinode is part of the Solar Terrestrial Probes (STP) Program within the Heliophysics Division of NASA's Science Mission Directorate in Washington. NASA's Marshall Space Flight Center in Huntsville, Ala., manages the Hinode science operations. The Lockheed Martin Corp. in Palo Alto, Calif., is the lead U.S. investigator for the Solar Optical Telescope.
AKTUALITY | NEWS
12.10.2014: Sondu brněnských a slovenských vědců vynese do stratosféry balón. Bude zkoumat, jak kosmické záření poškozuje DNA a jak ovlivňuje život ve vesmíru
informace
fotografie
tisk
Journal of Metallomics and Nanotechnologie
laboratorní časopis
-
informace pro autory
Upozornění pro cestující týkající se výskytu horečky způsobené virem EBOLA
-
pdf
Týden vědy a techniky
Nanotechnologie kolem nás
12.11. a 13.11.2014, 10:00 - 17:00
pozvánka
pozvánka
plakát
Technické podrobnosti a úpravy v informačním systému – V
Prof. Ing. René Kizek, Ph.D., RNDr. Josef Růžička, Petr Čapek, Mgr. Michal Horák, Martina Staňková, Mgr. Olga Kryštofová, Ph.D.
29. 10. 2014, od 14:00 – 16:00 h
pozvánka
Jonas Edward Salk;
Mgr. Dagmar Chudobová
30. 10. 2014, 12:45 h
pozvánka
PCR Instructions for Ebola Emergency Use
Ing. Bc. Petr Michálek.
30. 10. 2014, 12:45 h
pozvánka
Experimental Ebola vaccines
Mgr. Zbyněk Heger
30. 10. 2014, 12:45 h
pozvánka
Statement on travel and transport in relation to Ebola virus disease (EVD) outbreak
MVDr. Ludmila Krejčová
30. 10. 2014, 14:00 h
pozvánka
Aptamery jako nástroj pro identifikaci a léčbu virových onemocnění
Monika Kremplová
31. 10. 2014, od 12:00
pozvánka
Quantum dots and interaction with biomolecules
Maja Stanisavljević
31. 10. 2014, od 12:00
pozvánka
Miniaturizované elektrochemické systémy
Ing. et Ing. David Hynek, Ph.D.
pátek 31. 10. 2014, od 13:00
pozvánka
Transmisní elektronová mikroskopie – základy použití
Ing. et Ing. David Hynek, Ph.D.
31. 10. 2014, 14:00 h
pozvánka
Procedure for the preparation of multiwalled carbon nanotubes and their modifications with doxorubicin, ellipticine and etoposide
MSc. Amitava Moulick, PhD, Ing.Vedran Milosavljevic, Ing. Branislav Ruttkay-Nedecký, Ph.D., Prof. Rene Kizek, PhD
pátek 31. 10. 2014, od 14:00
pozvánka
Influenza virus – molecular biology
MVDr. Ludmila Krejčová, Ing. et Ing. David Hynek, Ph.D.
pátek 31. 10. 2014, od 14:00
pozvánka
Sledování interakcí vybraných aminokyselin s platinovými cytostatiky
Mgr. Natalia Cernei, Ph.D., Mgr. Zbyněk Heger, Mgr. Ondřej Zítka, Ph.D., Prof. Ing. René Kizek , Ph.D.
pátek 31. 10. 2014, od 14:00 – 15:00 h
pozvánka
What is Imaging Mass Spectrometry?
DEA. Miguel Angel Merlos Rodrigo, Mgr. Roman Guráň, Mgr. Ondřej Zítka, Ph.D.
pátek 31. 10. 2014, od 16:00
pozvánka
Akce
Nanocon 2014
6. mezinárodní konference
5. - 7. listopadu 2014 - Hotel Voroněž I, Brno, Česká republika, EU
pozvánka
Journal of Metallomics and Nanotechnologies
NOVÉ PUBLIKACE
Interaction study of arsenic (III and V) ions with metallothionein gene (MT2A) fragment